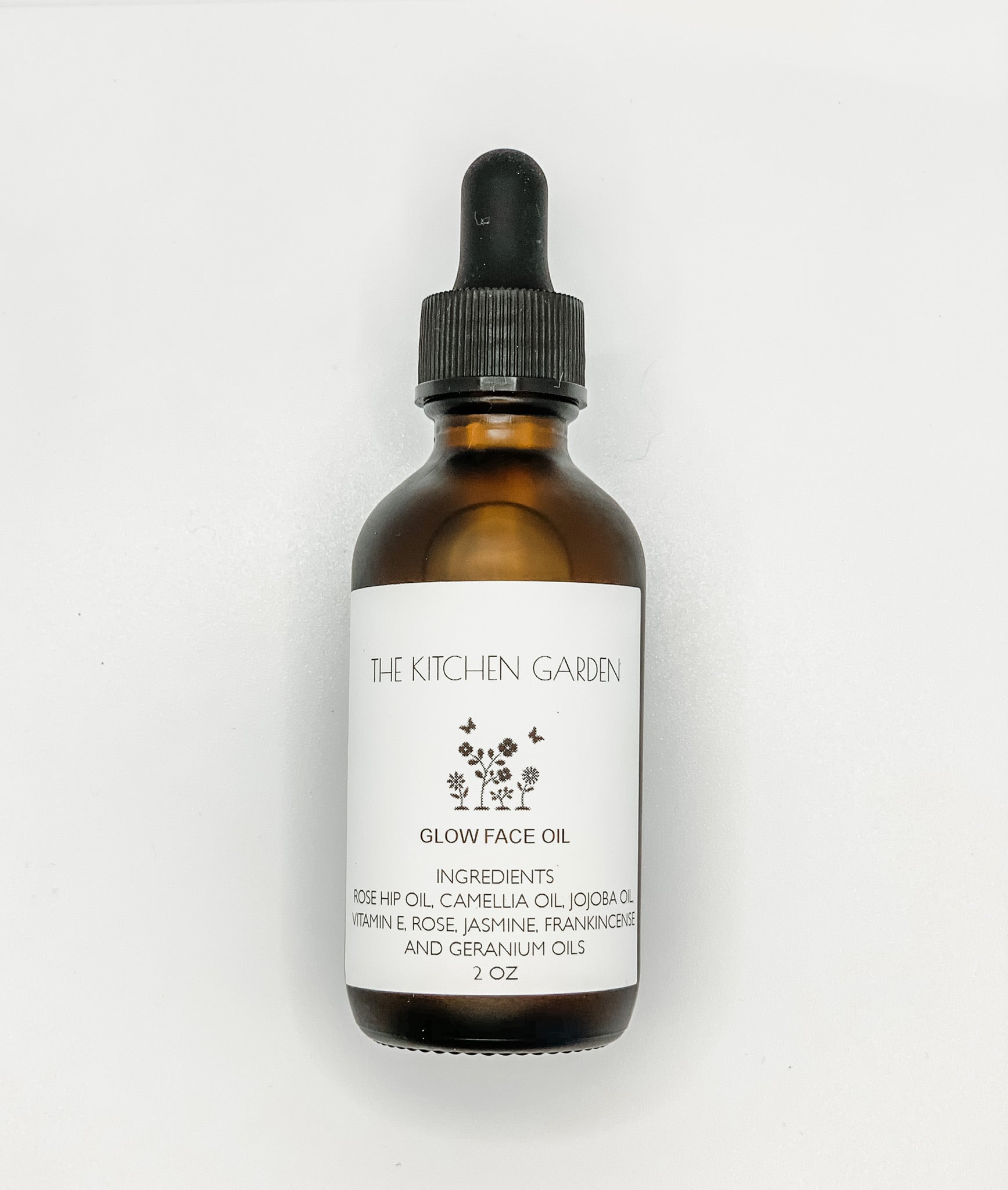 GLOW FACE OIL
TREAT YOUR SKIN TO A DECADENT COMBINATION OF NONCOMEDOGENIC OILS THAT COMBAT SIGNS OF AGING, BRIGHTEN YOUR COMPLEX, HYDRATE AND NOURISH BEYOND THE CAPABILITIES OF ANY LAB DERIVED LOTION OR CREAM.  
ROSE HIP OIL IS RICH IN VITAMIN A WHICH IS KNOWN FOR ITS EFFECTIVENESS AT REDUCING AGE SPOTS AND WRINKLES, WHILE CONTAINING MOLECULES SMALL ENOUGH TO PENETRATE DEEP LAYERS OF SKIN, IMPROVING MOISTURE AND COLLAGEN LEVELS. 
CAMELLIA OIL PROMOTES SKIN ELASTICITY WITH ITS OUTSTANDING MOISTURE RETAINING ABILITY, IT IS ONE OF THE FASTED ABSORBING PLANT OILS KNOWN.  OVER 80% OF THIS OILS FATTY ACIDS ARE COMPRISED OF OLEIC FATTY ACIDS (OMEGA 9) WHICH IS ONE OF THE MOST EFFECTIVE TRANSDERMAL CARRIERS ALLOWING THE PROMOTION OF CELL GROWTH AND REPAIR.  
JOJOBA AND VITAMIN E SOOTHE AND LEAVE THE SKIN WITH LASTING MOISTURE, ITS HIGH LEVELS OF ANTIOXIDANTS AND ANTI-MICROBIAL PROPERTIES HELP SUPPRESS THE OCCASIONAL BREAKOUT AND HELP PROTECT SKIN FROM OUR EVERYDAY LIVES. 
THESE ESSENTIAL OILS WORK TOGETHER, EACH WITH THIER UNIQUE THERAPEUTIC PROPERTIES TO ENHANCE THE POTENCY OF THE OIL AS WELL AS THE OVERALL EXPERIENCE WITH THIER AROMATIC CHARACTERISTICS.
No products in this collection